Clarke County has a history as rich as the soil along the banks of the Tombigbee and Alabama Rivers which form its boundaries. The county's history began long before Alabama's statehood. Hundreds of years before white settlers came here, Indians in the area of what is now Tallahatta Springs near Thomasville fashioned arrowheads and spear points from the tallahatta stone and traded them for other foods with other tribes from across the area. Some scholars believe that the Battle of Mauvilla, fought between explorer Hernando Desoto's men and Native Americans in 1540, took place right here in Clarke County.
The Mississippi territorial legislature created Clarke County on December 10, 1812. It was named for General John Clarke of Georgia. A county seat was not established until 1820, when it was located in the now-defunct town of Clarksville. In 1831 the county seat was moved to its present site, Grove Hill. That town had earlier gone by names such as Magoffin Store, Smithville, and Macon.
Native Americans played a pivotal role in the county's early history. Claimed by both the Creek and Choctaw Indians, the area was a hotbed of activity during the Creek War. It was home to more fortifications than any other county in Alabama and was the site of many famous skirmishes before the war ended in 1814 following General Andrew Jackson's victory at the Battle of Horseshoe Bend.
The county was also known for its role during the Civil War. The salt produced from the county's three natural salt springs was shipped all over the south. Gunboats were also constructed here. Markers west of Jackson show the sites of these salt works today. The five municipalities in the county are Coffeeville, Fulton, Grove Hill, Jackson and Thomasville. Each has its own unique history and role in the development of Clarke County.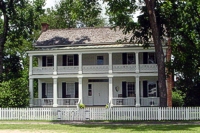 The museum contains a number of family histories, infantry regiments and muster rolls from the county, a list of Confederate soldiers from Clarke County who died in Union POW camps, county heritage books, a History of Hal's Lake, Clarke County Historical Society quarterlies from 1977 – present, and newspapers on microfilm including:
Clarke County Post

, Suggsville
May 9, 1836 – Aug. 25, 1837

Macon Banner

, Grove Hill
April 24, 1845; June, 1845 – Dec. 29, 1846

Southern Recorder

, Grove Hill
January 20, 1847 – Nov. 7, 1849

Clarke County Democrat

, Grove Hill
Jan. 31, 1856 – Dec. 31, 1942

South Alabamian

, Jackson
Oct. 1, 1887 – Dec. 31, 1915
116 W Cobb Street
Grove Hill, AL 36451
 
Office Phone
(251) 275-8684
 
Gift Shop Phone
(251) 275-2014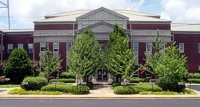 The Probate Office at the Clarke County Courthouse is a veritable treasure trove of information for genealogists. The spacious vault has tables and chairs and well-organized files. Bound periodicals and many original record books are found on the shelves. The Probate office does not contain census records except for a restored copy of the 1880 Clarke County census. It also does not have military records from the Revolutionary War, the War of 1812, the Creek Wars, or the Civil War, with the exception of incomplete pension records. What is available?
Clarke County Court House
114 Court Street
Grove Hill, AL 36451
Probate Office Phone
(251) 275-3251
Marriage records beginning in 1814; groom's name and approximate year are required when requesting a search.
Will and estate records beginning in 1814.
Pension records (incomplete) for Confederate and Revolutionary War veterans
Newspapers in bound volumes.
Incomplete cemetery listings and transcriptions.
Incomplete bond records and physician's certificates
Deed and mortgage records beginning in 1814
Loose records from the 1800's
In the genealogy records room downstairs, records available include:
Civil court records
Divorces from the turn of the century
Old property records
Copies are $1 each; certification is an additional $3 per instrument.