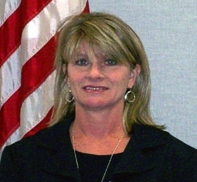 Dear Clarke County Citizens,
We are proud to provide you with this webpage. This is our way of introducing our office personnel to the citizens of Clarke County. We have provided information that we hope will be beneficial to you as you conduct business with our office. As you navigate this site, you will find that there are blank forms that can be downloaded to help eliminate return trips to our office. We will continue to strive to better inform the citizens of current laws and changes in our office. Please feel free to call us at 251-275-4141 if we can assist you in any way. "Better knowledge and communication are the keys to an efficient office."
Linda Goodman
License Commissioner
Linda Goodman
License Commisioner
Motor Vehicle
Motor Vehicles are registered through the county license commission office. Newly acquired vehicles or recently purchased vehicles are to be registered with this office within 20 calendars days. If the vehicle is not registered within the 20 calendar days, there will be a $15.00 penalty charge.
Documents needed to register your vehicle:
Title – Properly signed
Bill of Sale – Signed by the seller and by the buyer with two witnesses or notary.
Proof of Insurance
Driver License
Documents needed to transfer a tag:
In order to transfer a tag the vehicle must sold, traded or declared a total loss. If the vehicle has been sold or traded a bill of sale is required in order to transfer your previous tag to the newly acquired vehicle. If the vehicle is a total loss a statement from the insurance company verifying that the vehicle has been totaled is required in order to transfer the tag from the previous vehicle to the new vehicle.
All out of state vehicles or vehicles that do not have an Alabama title must be inspected before it can be registered with the State of Alabama.
Motor Vehicle Forms:
For your convenience you may download forms and get important information from the Alabama Department of Revenue Motor Vehicle Division HERE. This site provides you with information pertaining to vehicle registration, titles and liability insurance as according to the state law.
Personalized Plates:
You may also search for a personalize tag message here. On this site you may also view pictures of the tag of your choice.
Note: This office also handles mandatory insurance, sales tax, conservation (hunting and fishing), boat, and business license.
Office Hours
Monday – Friday
8:00 A.M. – 5:00 P.M.
Driver's License
All driver license renewals have a $23.00 fee. If you lose your license or for any other reasons you would need a duplicate license, we will supply you with a duplicate for a fee of $18.00.
For CDL, newly acquired license and State ID (State Identification), you must visit the State Examiners office located to the rear of the courthouse.
State Examiner Office Hours
Thursday and Friday
8:00 A.M. 11:00 A.M. & 1:00 P.M. – 4:00 P.M.
Phone: 251-275-4351
For more driver license information you may visit:
http://www.dps.alabama.gov/DriverLicense/Default.aspx.
Renewal Months
All motor vehicle and boat tags are renewed annually. Renewals are based on the first letter of the owner's last name. These tags must be renewed by the last day of the month. In the event that the last day of the month falls on the weekend, you will have the following working day to renew your tag without a penalty. However, if you have not renewed your tag by the last day of the month, there is a $15.00 penalty charge, this charge will not apply to boat renewals.
January – A D
February – B
March – C E
April – F G N
May – H O
June – M I
July – P L
August – J K R
September – Q S T
October – U – Z
Office Hours
Monday and Friday
8:00 A.M. – 5:00 P.M.
Staff