Summer Scruggs Padgett
Circuit Court Clerk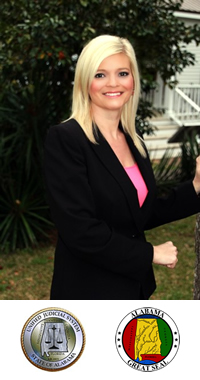 The Circuit Clerk is the chief administrative and fiscal officer for the court system at the District and Circuit Level. This elected position was established in the Alabama Constitution and has a six-year term. The primary duties of this office revolves around filing, docketing, attending court, issuing of notices, records management and reporting to Administrative Office of Courts.It is the responsibility of the Circuit Clerk to prepare a list of prospective jurors, issue summons, subpoenas, writs and warrants related to each case. The clerk maintains the records of civil, criminal and juvenile divisions of the court. The circuit clerk, probate judge and the sheriff serve as the election officials for Clarke County, and are responsible for appointing poll workers and certifying votes. The Circuit Clerk serves as absentee election manager for the county.Courts of Jurisdiction include–  Divorce, Small Claims, Circuit Civil. Child Support, District Civil, Traffic, Circuit Criminal, District Criminal, Protection from Abuse.
Monday – Friday 8:00 am – 5:00 pm; closed 12 – 1 for lunch.
Clarke County Courthouse
P. O. Box 921
Grove Hill, Alabama 36451
Phone 251-275-3363
Fax 251-275-3271
You may now access various forms and child support information here.
To pay traffic tickets by credit card you may call the Alabama Traffic Service Center toll free at 1-866-954-9399, Monday – Friday, 8:00 a.m. to 5:00 p.m. or you may pay online here. These services are accepted 24 hours a day and seven days a week.
For registered voters wishing to apply for an Absentee Ballot, please print the Application for Absentee Ballot here. You can mail or hand deliver the application to the Circuit Clerks office.